×
Legal Will Sale - by Lawyers and Lattes - Canada's #1 source for wills
Two spousal wills for $250 Plus free lifetime storage (a $1050 value - save $800). To get started: Sign Up Here.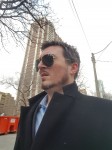 Bail Hearings and/or Guilty Pleas
I am happy to represent anyone facing criminal charges for either type of hearing for $1500. High rate of success for both bails and pleas.